Hi all, Crazy's back and it's my turn to talk about what may be my favourite modern set to date.
Last week, you hopefully caught an interesting article by Unmistakable where I outsourced some parts of this Legendary Encounters article due to the frankly absurd amount of legendary creatures. As such, I'll be bringing my favourite colours to the table this time around – We don't need no Azorius here in the Junderdome. Starting us off is the final member of the famous band "Lili and the Pactmakers":
Demonlord Belzenlok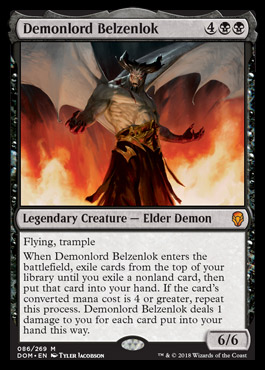 AKA "Fat Nauseam"
As a Commander?
Can I build a deck full of Mono-Black Fatties? Hell yeah I can. Between efficient beaters such as Phyrexian Obliterator, Backbreaking enchantments like Painful Quandary and even powerful mana generators like Crypt Ghast there is plenty to find with that ability. The main issue is the potential to whiff, since you're no doubt going to be running lower cost powerhouses like Demonic Tutor, Toxic Deluge and good old Sol Ring, not to mention the possibility of straight up exiling your Cabal Coffers by accident. A 6/6 Flying Trampler is a pretty good fail case though.
In the 99?
There are certainly decks that want this – Reanimator decks such as The Mimeoplasm can use this to find a potential ream of targets to discard, Black-Based Ramp decks along the lines of Rakdos, Lord of Riots can find a bunch of creatures to lay out and – My personal favourite use – Kaalia of the Vast would just love to reload her hand full of fatties when you drop this guy for free too.
Other formats?
Uncertain, but leaning towards "Probably not". Being a 6/6 flying trampler that effectively cantrips is fairly strong but in most things that aren't Standard you probably want to be either outright winning the game for 6 mana or at least doing better than a cantripping French Vanilla.
Josu Vess, Lich Knight
Room for one eight more?
As a Commander?
Yes please. I'm seriously considering building this myself as a Mono-Black Ramp deck. And on the way up we can play such classics as Panharmonicon and Strionic Resonator to turn that extra 16 power into an extra 32 or more power's worth of Zombies. Throw in some Lords like Undead Warchief or Cemetery Reaper? Now we've got a real stew going. And the fail case is a 4/5 menace for 4? Sign me the hell up.
In the 99?
There are three types of deck that want this – First, the obvious Zombie Tribal lists, I know for a fact Unmistakable will be tracking one down for his Scarab God list and I highly doubt he'll be the only one. Second, token decks looking for a finisher, like non-combo Ghave, Guru of Spores can always use another finisher, adding Doubling Season and Parallel Lives to the list of power boosters for Josu here. And finally, Ramp decks will get a kick out of his finisher, giving them an option that doesn't die to targeted removal. All in all, pretty much a shoo-in to a whole bunch of decks.
Other Formats?
I did mention that this guy was a 4/5 Menace for 4 even without his small army right? I'm pretty sure he's going to be a powerhouse in the new Dominaria Standard seeing as how he's not dying to either the new poster child of black removal, Cast Out, or the old king of value Glorybringer – While also bringing the pain any time from turn 4 to turn 10. Probably doesn't do quite enough to pull a spot in Modern competing against things like the newly unbanned Jace the Mind Sculptor and Bloodbraid Elf but it's not impossible.
Kazarov, Sengir Pureblood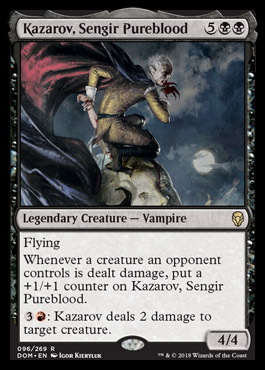 "I vant to shock your blood!"
As a Commander?
Well since we're in both Red and Black there is a lot of tech that works well with this guy – there's a lot of obvious cards along the lines of Pestilence and it's colour shifted cousin Pyrohemia but my personal favourite tech call for this card is Varchild's War-Riders, which gives us a lot of creatures to fry on the other sides of the table even if our opponents are playing creatureless. All in all, a decent addition to the Rakdos arsenal, and I'm honestly pretty surprised we haven't had a proper Rakdos Voltron commander before this actually.
In the 99?
Well there's the obvious Vampire Tribal deck for one – I'm sure Edgar Markov would be only too happy to bring Kazarov into the fold – Especially with all those weenies he makes dealing damage whenever an opponent dares to block one. Aside from that though, I think this is another one that Rakdos, Lord of Riots would be rather fond of, since he helps get around this card's biggest downside – it's mana cost – and Kazarov being an evasive creature himself can help you get in for the damage you need to cast Rakdos in the first place.
Other formats?
He's expensive and has a pretty frail body for the cost without support, and while in commander we can somewhat guarantee that support that's much less guaranteed in any other format, even if you can get to the 7 mana you need to cast him. Sure you could cheat him out, but then he's competing against threats like Noxious Gearhulk, Zetalpa, Primal Dawn and Verdant Force for top dog even just in standard, and he's not even going to beat any of them for being best reanimation target, let alone Griselbrand or Iona in Modern.
Torgaar, Famine Incarnate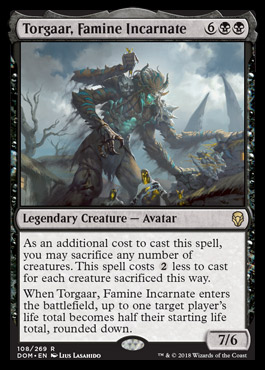 Sacrifice 3 creatures to make it as cheap as possible and halves a life total on entry… Half-Life 3 confirmed?
As a Commander?
Setting someone to 20 is a powerful effect, and this isn't a bad body to have it on either. Especially considering how cheap it can be, and even more especially considering that his ability can be used to dodge commander tax, a powerful trait under any circumstance. He's especially a notable choice if your meta has a deck with a strong lifegain component such as Oloro, Ageless Ascetic that you want to bring down a peg, as it sets them to half of their starting life total rather than current. And if they're at more than their starting life total when you slap down this followed by a Wound Reflection… Well.
In the 99?
Well he won't be dodging commander tax but in a deck looking to be aggressive bringing them down to 20 is a pretty useful thing to do – And in that sort of deck you'll likely be playing enough creatures to spare some anyway. I imagine you'd put it in your Aggressive Saskia the Unyielding or Sygg, River Cutthroat decks in a heartbeat – Possibly a control variant on Nekusar, the Mindrazer could want it as well, as having your opponent draw 20 cards is much easier than 40. I'm on the fence about it in Reanimator decks since it has it's own cost reduction built-in anyway, but perhaps a value reanimator like Meren of Clan Nel Toth could use this as both a sacrifice outlet for value creatures and a powerful target in it's own right.
Other formats?
Considering how easy 10 life is to get through and that this can be cast for 4 or even 2 without a huge amount of trouble, I wouldn't be surprised if this saw some play in a few formats. Some food for thought for you Modern brewers out there – Hidetsugu's Second Rite synergises pretty excellently with this.
Urgoros, the Empty One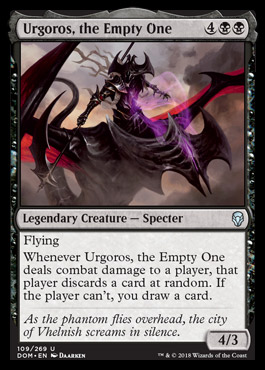 Gotta hand it to ya… No, literally – give me your hand.
As a Commander?
Well it's not that tech doesn't exist, he just seems really dull to me. I did have a discussion with our resident lord of jank Entrynode however, and he came up with a few pretty interesting cards you can pair with this to make it more than playable. For starters, Helm of the Host is a bomb when you can continually make non-legendary copies so that you can be picking on more than one person at once – Further, once you have a non-legendary copy, you can stick it with Blade of Selves to have it gain Myriad, and then nobody will be able to hold their hands together while you sit drawing card after card. Aside from that though, regular discard tech is likely the way to go – Waste Not and Megrim are always to eat people out of hand and home.
In the 99?
Honestly, kind of stumped here. It's a bit expensive for just splashing into a deck – especially one that wants to run low to the ground like discard decks – but it's effect isn't really splashy enough for Reanimator decks… with a few exceptions. I imagine Sedris, the Traitor King would be quite happy to reanimate this with haste to snipe an unsuspecting player with one or no cards in hand to really put them in a bind – On the other hand the powerful reanimation engine that is The Scarab God would also be quite happy to have this around – as a 4/4 no less – as another continual advantage engine.
Other formats?
Probably not. It's just too expensive and too frail – It literally dies to Lightning Bolt so it won't see play anywhere stronger than Standard almost as a guarantee – And in standard there's a lot of competition for "Large Black Creature" with Noxious Gearhulk and Demonlord Belzenlok existing. Sadly I think it's constructed possibilities are mostly empty.
Whisper, Blood Liturgist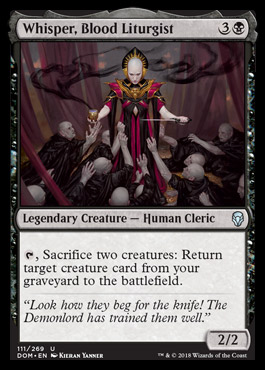 In this fantastic offer, get one creature for the price of two! Wait a sec…
As a Commander?
I'm picking up what she's putting down here – And what she's putting down is cheap creatures and tokens. What you're picking up, on the other hand, are such threats as Geth, Lord of the Vault and Razaketh, the Foulblooded from your graveyard. It's no secret that I'm a sucker for a good reanimator deck and this girl just oozes value to me – Especially since you can sacrifice things with strong death triggers of their own such as Vengeful Lich or even Whisper herself if you're a tad short on creatures. Big points to threats that bring their own sacrifice fodder too such as Abhorrent Overlord.
In the 99?
Seems like a reasonable pick for any deck that's using both weenies to sacrifice and big threats to reanimate – Karador, Ghost Chieftain and Meren of Clan Nel Toth spring to mind immediately. Cleric isn't an irrelevant creature type either – People have certainly played Cleric tribal in the past and with cards like this more power to them, playing commanders such as Athreos, God of Passage or Tymna the Weaver with a partner.
Other formats?
I could see some people giving this a try in Standard or Brawl – she's fairly cheap for what she does. Her main issue is how weak she is to removal, since she needs to survive a turn before she can start being an engine. That issue is amplified in Modern and more powerful formats, where dying to a stiff breeze and/or Pyroclasm and needing to survive a turn without doing anything are both pretty massive dealbreakers.
Yargle, Glutton of Urborg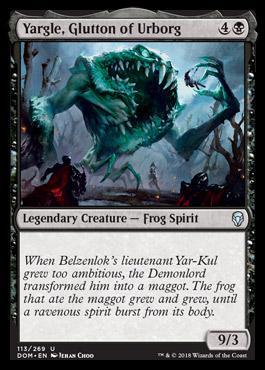 All the flavours of the world, and you chose to be Vanilla.
As a Commander?
Honestly? I kinda rate this guy as a bit of a sleeper voltron hit. 9 power is nothing to sniff at, and slamming someone for 21 isn't even that hard if you stick him with Double Strike via some equipment. Also, lest we forget, Infect – or more specifically Tainted Strike – is a thing that exists for that hard one-shot potential. Don't get me wrong, it's still a bit of a meme deck to sit down with at the table, but I do think it has some teeth at an unsuspecting table. Plus Frog Spirit creature type? I love it.
In the 99?
If you thought he was a meme in the command zone then you best hold on to your hats here. For one thing, he's a pretty legitimate threat in Spirit tribal decks such as Iname as One by virtue of being tied for highest power spirit in the game, where you can still pull similar infect shenanigans as when he was in the command zone. Also, and this may be stretching a tad, but in decks that care about his power for other reasons such as Jarad, Golgari Lich Lord and Varolz, the Scar-Striped he could even be a powerful utility bomb. He is pretty much hard countered by Doran, the Siege Tower though, so watch out for that.
In other formats?
Let us not overstate the fact that this card is 100% a meme card. However, let us also not overstate the fact that this is in Standard with Fling. Do with that what you will. As an aside, it also acts as a super mana-rock for Ghalta, Primal Hunger.
Squee, the Immortal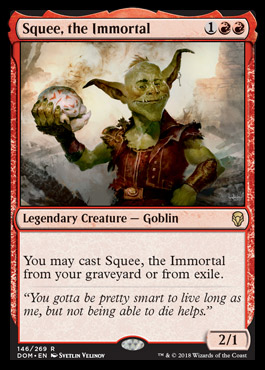 Squee 2.0, now with Food Chain shenanigans.
As a Commander?
Well if this guy isn't the little advantage engine that could. Skullclamp is a major inclusion in most decks but especially when you have a commander that avoids the tax entirely by never going back to the command zone, it seems very strong. Personally I'm also really liking the look of this card with red Polymorph effects such as Divergent Transformations, considering you can even pull him back from exile. Speaking of which…
In the 99?
He makes infinite mana with Food Chain. For you competitive commander players, that's pretty much the be all and end all of this card – General Tazri and Prossh will be happy to see you. For those of us who enjoy not playing solitaire though (Oh snap!) the other incredibly obvious place for such a resilient goblin is, of course, Goblin tribal. Having one to cast on-demand is useful for commanders like Krenko, Mob Boss who want you to have as many as possible and for commanders like Wort, the Raidmother who just asks that you keep a goblin around as much as possible. He is also, obviously, a prime sacrifice target, so decks like Kresh the Bloodbraided and Lyzolda, the Blood Witch will be happy to find him a home.
Other Formats?
I mentioned that this guy went infinite with Food Chain right? Because this guy goes infinite with Food Chain. I doubt he'll see standard play because he doesn't really synergise well enough with anything in the format as far as I can see, but he may see Legacy play purely off the back of his ability – especially since in that format he's essentially tutorable via Entomb since he can also be cast from the graveyard, unlike current favourite Eternal Scourge.
Valduk, Keeper of the Flame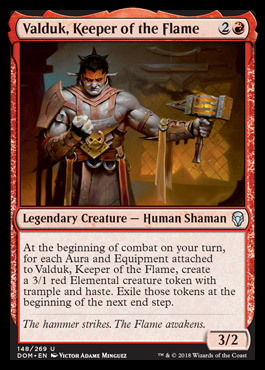 "And my Axe!" "And MY Axe!" "Mine too!"
As a Commander?
Strong theme with lots of support and a reasonable payoff. Yeah I'd play this guy as commander. Between Mono-Red Equipment support like Godo, Bandit Warlord and powerful auras like Claws of Valakut, he certainly lauds a hefty amount of power – Especially when those effects start pumping out elementals. Also worth noting is that this triggers at the start of each combat, so effects that give you more combat steps such as Aggravated Assault or Breath of Fury are excellent. Special mention to Breath of Fury for letting you clean up an entire table if they happen to be short of blockers, since you're making (Hopefully) more creatures than the one you need to stick with the Aura every combat.
In the 99?
Secondary Voltron targets in the 99 are typically not excellent – however, for equipment theme decks specifically there's always the chance the commander is simply unable to stick so you can just slap this guy down and go to town with all the swords you presumably have just lying around – I could see this happening perhaps in a Godo, Bandit Warlord or the new RW commander Tiana, Ship's Caretaker – But more on her next week.
Other Formats?
Standard and Brawl are certainly formats that exist – It's a shame it's a tad pricey for Modern Bogles really. In Standard though some sort of Voltron deck isn't entirely off the cards considering powerful auras like On Serra's Wings now exist. Time will tell on this one – I'm not super optimistic but I am hopeful.
Verix Bladewing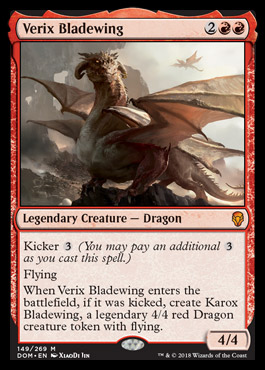 The couple that flies together, stays together.
As a Commander?
I'm not really feeling it – Don't get me wrong, this is a strong card for the cost whether it's kicked or not in terms of straight mana efficiency, it just seems wholly uninteresting to me. We can't even grab synergies with cards like Panharmonicon to get additional value on entry since the token is also legendary. However…
In the 99?
This thing is a windmill slam for the 99 of a Dragon tribal deck. A second copy of Broodmate Dragon is always nice, and both of them being legendary isn't necessarily a downside with all the new support in Dominaria for that sort of thing. The Ur-Dragon making this cheaper only increases the value you get as well – It's just generally a good pick.
Other Formats?
I'll honestly be surprised if this sees no standard play. It may not be immediately since it's somewhat competing with Glorybringer, but that rotates before this does – And when it does there will be a big dragon-shaped hole waiting for this to fill.
Grunn, the Lonely King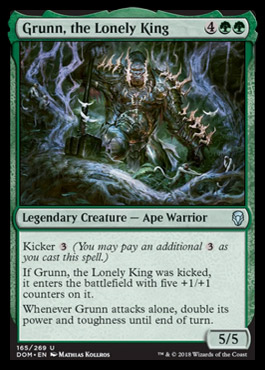 AKA "Captain Hindsight", which is also 20/20 at times.
As a Commander?
Oh god yes. In fact I plan on doing this as a No-Cash Commander in the very near future because who doesn't want to swing for 20 commander damage with no other help? The obvious things to put in this deck then are, of course, things that grant evasion. Trample enablers like Berserk and things that give straight up unblockable like Whispersilk Cloak are understandably near the top of my list, followed shortly by the ramp we need to get to the whopping 9 mana needed to cast him and pay his Kicker. The payoff though, as already discussed, is frankly ludicrous.
In the 99?
Well the 20/20 is with next to no assistance, so as long as you don't plan on going wide, any ramp deck could certainly make use of him. Omnath, Locus of Mana and Ruric Thar, the Unbowed immediately come to mind as prime candidates to house the King. Since he's attacking alone as well, Rafiq of the Many could be a fine home for him, making him an utterly titanic 22/22 with Double Strike when attacking alone.
Other formats?
I mean, I'm certainly planning on testing this guy out for standard – not that I'm optimistic about it. On the other hand, 10 – or god forbid 20 – damage off of a Fling is pretty real. I do think he'll be a hefty threat in the new Brawl format mind you – With only Standard removal to use there's only so many times a 10/10 can be answered.
Marwyn, the Nurturer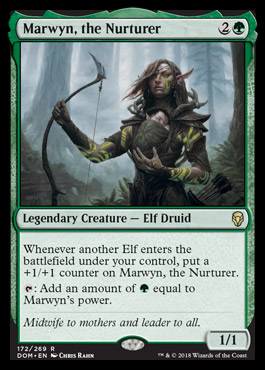 Elf Momma's bringing home the bacon.
As a Commander?
Well this can go one of two ways – Hard elf tribal a la Ezuri, Renengade Leader, using her as a strong beater and mana source, which is the way I expect most people will go with it. The other way is very similar, but including some powerful ramp threats as a payoff for Marwyn's massive mana generation and going a more traditional Mono-Green ramp route with an elf subtheme – Playing Ulamog, the Ceaseless Hunger or Verdant Force as prime examples.
In the 99?
Well the obvious home is the same as it's obvious archetype – This goes pretty damn well into an Elf deck both as mana generator and ridiculous threat. The benefit, of course, being that you can run her in multicoloured Elf decks such as Nath of the Gilt-Leaf or Radha, Heir to Keld and benefit from having more colours to choose from while still having access to her.
Other formats?
She's probably a tad slow for most formats with a traditional Elfball deck, being essentially a Llanowar Elves the turn she comes down. However, given that we have literal actual Llanowar Elves in standard right now, she may be able to start elfball-ing all by herself given the right deck – But we shall see.
Multani, Yavimaya's Avatar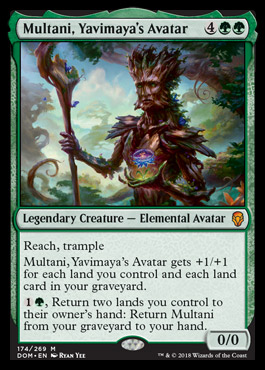 Lands? Lands. Lands!
As a Commander?
It's pretty fine. It's a big beefy beater that only gets bigger as the game goes on. And using the ability to evade commander tax isn't bad either – And with enough Landfall from the likes of Avenger of Zendikar and Rampaging Baloths, the "Cost" of returning them to your hand may not even be really a downside. Just be careful – Multani dies to Armageddon. Bonus points for using Fetchlands since they'll sit in your graveyard and pump Multani even more after use.
In the 99?
Well personally I really want one, but that's because I have an Omnath, Locus of Anger deck that wants to abuse that activated ability to re-play all of my lands – A strategy I highly recommend to anyone piloting a similar deck. Otherwise, if your deck cares about lands in any way, Multani can lend a branch – The Gitrog Monster in particular stands out to me as this is essentially Golgari Grave-Troll in that deck body-wise but for your lands, which you'll presumably have a lot of in the bin if you're playing the Dredge Toad.
Other Formats?
Bit slow unfortunately, coming down at 6 and doing nothing that turn. May have some legs in standard though with all the new ramp tools around – Between Llanowar Elves, From the Ashes and Hour of Promise there's a solid ramp core right now.
And that's all from the Junderdome for now – I've been Crazy and if you want to let me know what you think of my analysis, feel free to drop us a comment or message over on our Facebook Page.
Crazy out.