Hi everybody, Crazy in the house. It's that time again when I get to go over all the new legendary creatures – This time from Rivals of Ixalan – and hoo boy am I excited to go over all these dinosaurs, as you may have assumed from the Marath No-Cash Commander article I wrote after Ixalan dropped. Just in case you've not seen the other entries in this series I will be discussing the new legendary creatures primarily from an EDH standpoint – Both as Commander and in the 99 – But I will be making reference to other formats as well. Anyway, enough intro, let's get started with the "Dartboard Legendary" of the set:
Zetalpa, Primal Dawn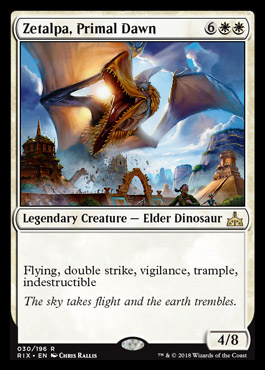 Dartboard Legendary – So called because Wizards taped keywords to a dartboard and started throwing.
As a Commander?
Strictly speaking there's nothing wrong with this guy in the command zone – aside from the usual problems playing an expensive commander in a restrictive colour combination brings – But it seems to me that if you were going to play an effective 8/8 flying beater in the command zone in Mono-White then you may as well play Avacyn, Angel of Hope and get board-wide indestructible and all the shenanigans that brings. There's a case for a casual Voltron deck since he already comes loaded with evasion, resilience and double strike but costing 8 makes that a less attractive proposition than, say, Kemba, Kha Regent.
In the 99?
Much more relevant here. It should go without saying that this card goes straight in the Gishath, Sun's Avatar deck – But I'm going to say it anyway. This goes in the Gishath, Sun's Avatar deck with no question, because getting this for free is nutso. In the vein of commanders that care less about him being a Dinosaur, Odric, Lunarch Marshal certainly cares about him being a hot, delicious serving of Keyword soup, because one of the things that's better than having all those keywords on one creature is having them on your whole board. As a final option, this is a somewhat attractive proposition for any White-based reanimator lists looking for the biggest, dumbest beaters – casual Karador, Ghost Chieftain players, keep your eyes out.
Other Formats?
Doesn't go into any eternal formats, but this could be a Standard All-Star. Hear me out – Because this is a very attractive target for Standard Staple God-Pharaoh's Gift – Being an effectively 8 power creature coming out with Haste on top of all those other keywords. In any format past modern this would only ever come in as a reanimation target, where it's pretty hopelessly outclassed by Avacyn, Angel of Hope and Iona, Shield of Emeria even if we only limit ourselves to white – In reality he's competing with Griselbrand and Terastodon among others, and there is no way he's beating any of them.
Nezahal, Primal Tide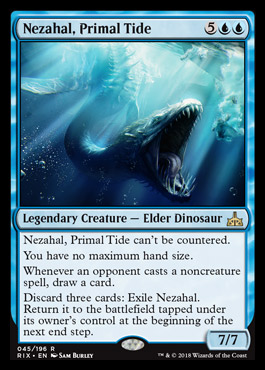 I too rather miss Pearl Lake Ancient in standard.
As a Commander?
Certainly more expensive than other Mono-Blue control options – And he does want you playing Mono-Blue control – but let's examine what he does give us. For one, he does lethal commander damage in three hits, which isn't terrible, and unlike other giant legendary Kraken-Esque things (Looking at you Tromokratis) this one has abilities that don't just affect combat. So essentially you'd be looking to build Mono-Blue control with a commander damage win-con, both of which he can support. The problem with building him hard into one of those things is that he gets competition from cheap commanders such as Talrand, Sky Summoner and Baral, Chief of Compliance on the control end of the spectrum and from other beaters like Lorthos, the Tidemaker and the aforementioned Tromokratis if you're solely looking for beats, so play to his strengths.
In the 99?
He feels strong enough but I'm not truthfully sure what shell he goes in. As a body that can protect himself and bring on the card advantage he certainly fits the bill for the top-end of the deck of his follow control buddies such as Baral, Chief of Compliance and Oloro, Ageless Ascetic. I think he's far more interesting though in Blue reanimator lists where he can be used a discard engine as well as a threat that generates card advantage. Double points for Unearthing it in Sedris, Traitor King and then exiling it to it's own ability to bypass the Unearth exile, while discarding three more huge threats. Such value.
Other Formats?
I'll honestly be quite surprised if this doesn't make some sort of Ux control list during it's time in Standard, but that might just be because of how much this card reminds me of former Standard all-star, Pearl Lake Ancient. I doubt it will see play in any other format though, way too slow and not worth reanimating.
Tetzimoc, Primal Death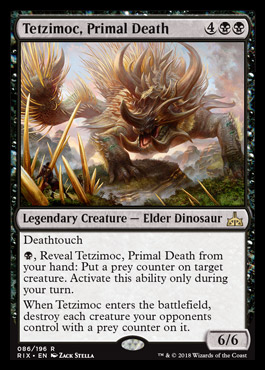 Better "Prey" you see him before he sees you…
As a Commander?
I have one rather glaring problem with this card in the command zone, and that is that the command zone is not, in fact, your hand. Not that it entirely makes him unplayable garbage mind, you can get him where you need him to be better than fellow unplayable commanders, Haakon, Stromgald Scourge and Phage the Untouchable at least since you can just summon him and bounce him either from the board or the graveyard fairly easily. Obviously, Command Beacon is an all-star in this deck too. If you want something cool to try with him, I'd be leaning towards Mono-Black control using Cloudstone Curio to continually bounce Tetzimoc to use as a one-sided boardwipe, but that's just me.
In the 99?
Considerably less hoops to jump through if nothing else – Certainly seems pretty good to me in Mono-Black control as both a strong politics piece and a straight up boardwipe. Politics how you ask? See who's eager to attack you when you've got their entire board's life in your hand. For that reason, could also see play in traditionally durdly control decks such as Oloro, Ageless Ascetic – Probably nothing too competitive though, a few too many hoops to jump through.#
Other formats?
At the risk of being a broken record, if this sees play anywhere it'll be standard. I do think it could see play there though – a 6/6 boardwipe, even with some setup, is pretty strong for a Midrangey deck in standard.
Etali, Primal Storm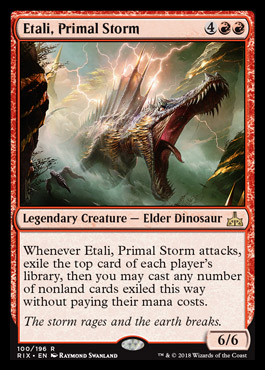 And for our obligatory "Wacky Red Commander" of the set… an actually good card!
As a Commander?
This may actually have a niche, since there aren't really any legendary creatures in Mono-Red with a comparable effect other than perhaps Grenzo, Havoc Raiser and you need to actually pay for the cards you steal with him. It certainly helps that he has a pretty big booty so most of the time he should be able to attack relatively fearlessly to continue triggering his ability. Perhaps most interestingly, he also casts the top card of your library for free – So "Big Red" is certainly an archetype you could run with this guy – Especially if you have ways in the deck to reliably find a Sensei's Divining Top.
In the 99?
In a world where people play Chaos decks of any description, there will always be people willing to attack with a card that lets you play everyone else's cards. Commanders of such decks may include Riku of Two Reflections, Ydris, Malestrom Wanderer or even Jeleva, Nephalia's Scourge. On a more interesting note, he, like most of the other legendary creatures so far, is loving the idea of being in the 99 of a reanimator deck, since the earlier the better to start cheating costs on everyone's cards. Finally, obligatory mention of "Yes, this goes in Gishath, Sun's Avatar".
Other formats?
Unlike the others so far, I'm not confident this will see any real play in any other constructed formats – It's effect is powerful but too inconsistent for it's cost in Standard, and in eternal formats where you can better manipulate your topdeck you have better things to cast than a 6 mana creature with no keywords.
Ghalta, Primal Hunger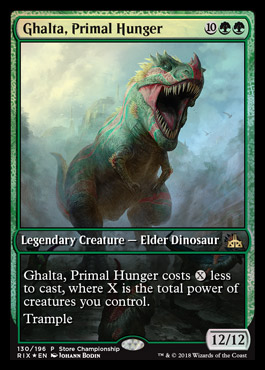 …or as I like to call him "The Biggest, Dumbest Beater".
As a Commander?
There's certainly a strong case to use him, he can cheat on commander tax quite easily with his cost reduction and kills someone in two hits with no help via commander damage. Or one with a Grafted Exoskeleton – Probably through blockers too since he even has trample. Your main concern in that case is how you're going to get enough power onto the board to pop him down. Cheapest I've managed so far is 4 mana, going Phyrexian Dreadnought into Savage Summoning for a 13/13 uncounterable trampler. The main draw against using him as commander is that, well, that's it. All this guy does is stomp and stomp hard. Some people are into that as a commander though, and to those people I highly recommend the king of the jungle here.
In the 99?
This is a love letter to the Timmy players of the world, and you should play it wherever possible. Especially in EDH, 10 power isn't even that difficult to achieve, and this becomes a 12/12 for GG at that point. I, for one, intend to put on in my Omnath, Locus of Rage deck since I get 10 power there just for playing Omnath followed by a land. Also goes in certain tribal decks that may have been mentioned several times up to now led by our favourite NayaSaurus Rex, Gishath, Sun's Avatar.
Other Formats?
I wouldn't be surprised if this saw play in other places, even the potential of a 12/12 trample for two mana has got to be enticing in standard if nothing else, although it seems to me that this is probably the one with the greatest potential to see other formats if only due to it's cost reduction – Even without any resilience to hard removal a 12/12 trample seems disgusting.
Azor, The Lawbringer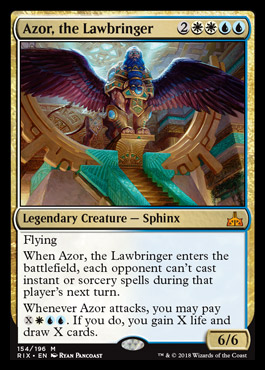 "No." – Azor, probably
As a Commander?
We have conflicting opinions on this one – I really like it, being able to use Sphinx's Revelation on attack seems pretty sweet and his no-spellcasting ability with some flicker effects – especially repeatable ones like Conjurer's Closet – seems pretty oppressive. Unmistakable, our tamed Spike, is disappointed – as the pilot of a tuned Grand Arbiter Augustin IV deck – that it doesn't do more to disrupt people while it's on the board. I'm inclined to agree from a flavour point that it probably should considering he literally invented the grand guild of  "Nope tribal" I'm pretty happy with what he does to be honest.
In the 99?
Obviously goes in flyer focused decks or Sphinx tribal, both of which Azor's current successor, Isperia the Inscrutable can make happen rather well. Otherwise he certainly has a place in decks using a lot of flicker effects – such as Roon of the Hidden Realm – as a control piece.
Other Formats?
It's not unlikely that he'll see play in Standard but it's certainly not guaranteed. Having an enter the battlefield ability certainly helps and may well help him see play in the control mirror seeing as how it does actually stop an opponent from playing Approach of the Second Sun for a turn. Perhaps not in other formats though unless someone figures out how to jam it into a Modern sideboard for use against Storm for similar delay tactics.
Elenda, the Dusk Rose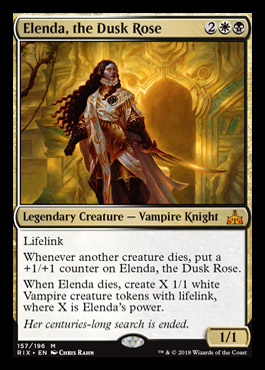 "I AM FULL OF TINY VAMPIRES."
As a Commander?
I was honestly pretty surprised to find out that this is the first straight up "Orzhov Vampires" commander. Seriously – We have Edgar Markov, the Mardu vampire but other than that this is the first WB commander to explicitly benefit vampires. So clearly, there's a niche there. As a twist, you could run her as a strictly "Aristocrats" style commander, using sacrifice engines to fuel her "I am full of tiny people" ability, which then fuels more sacrifice effects. As a further aside, she can replace Grave Titan in the Ashnod's Altar / Nim Deathmantle combo for infinite mana and tokens, which is another consideration should she be in your command zone.
In the 99?
Well she clearly goes in any Vampire deck that contains Black and White – Edgar Markov for example, who also has the benefit of dishing out more +1/+1 counters to her or her tiny vampire friends afterwards. Also as above, she goes in Aristocrats decks with an alternative commander, such as No-Cash favourite, Vish Kal, Blood Arbiter. The main problem is that she does need a bit of setup to do things well so she clearly  would rather be her own commander but that's not to say she doesn't work in these circumstances, just that she'll be less effective.
Other Formats?
A tad slow for formats other than standard, and perhaps even too slow for standard itself as a 1/1 for 4. We do have Yahenni, Undying Partisan in standard right now as a sacrifice outlet so it's not entirely out of the realms of possibility that we get an Aristocrats-style build but there's no way she'll land on her feet in an Aggro or even Midrange Vampire deck because her base body is just too small.
Kumena, Tyrant of Orazca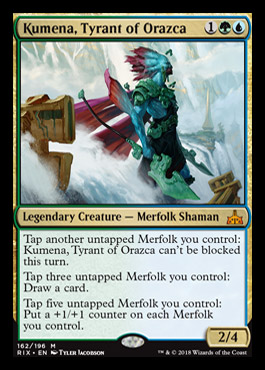 Kumena, Tyrant of Merfolk tribal
As a Commander?
This is a Merfolk tribal commander. There's not really much else he can do, so it's a good thing he does Merfolk tribal pretty damn well. On top of that, he finally allows the fish players of the world to play all their Green Merfolk like Cold-Eyed Selkie and Prime Speaker Zegana with an actual Merfolk-centric commander. Sadly I'm not sure he's great for much else so your opponents will know exactly what you're playing, but who honestly cares?
In the 99?
If you aren't playing Merfolk tribal or Changeling tribal, you can probably give Kumena a miss for your deck. All his abilities focus around Merfolk and his body isn't even above curve so there's literally no benefit to playing him in a deck that isn't centred almost entirely around Merfolk.
Other Formats?
Clearly this is an EDH plant, but much like our Spider tribal plant from a few sets back, Ishkanah, Kumena stands to see some play in other formats – if not quite to that extent. People are looking to experiment with him in Standard and Modern and it may just stay at experimenting or he may actually be really good. Only time will tell.
Zacama, Primal Calamity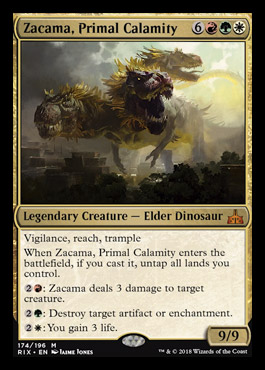 Three strikes, you're out.
As a Commander?
It's big and Naya coloured. That should be enough for some people to play it in the command zone, but if you needed further convincing, realise that it kind of evades commander tax by being effectively free in a land-based ramp deck, with three very relevant abilities even if you don't manage to cast something equally ridiculous off all that mana you saved. Something you may be tempted by is running this guy at the top of a Dinosaur Tribal deck, but there's not really any reason to not run Gishath, Sun's Avatar in that case. Also in our infinite combo corner – Zacama with one more land than is needed to cast it, a Cloudstone Curio and a free creature such as Memnite produces infinite coloured mana. Have fun.
In the 99?
I'm gonna reiterate the fact that it's big and Naya. Which means Mayael the Anima already wants it – three relevant activated abilities to use with the Illusionist's Bracers that's no doubt also in that deck. It should also go without saying that Gishath, Sun's Avatar probably wants this because the only thing better than casting Zacama and untapping is actually just getting it for free.
Other Formats?
I don't know about anyone else but I'm going to be at least trying to play this in Standard. Unsuccessfully no doubt considering it's mana cost but trying nonetheless. And nobody's gonna be trying to reanimate it in modern either since ideally it wants hard casting, and if we're hard casting for 9 mana we should probably just be playing Iona.
And that's the rundown of all the Legendary creatures participating in the fight for Orazca. Personally my money's on the Dinosaurs. There will of course be the obligatory Rivals of Ixalan no cash coming up very soon – If you want your say on who that should be then drop us a line on Facebook, Instagram, or even in the comments below – We read them!
Crazy out.