Good day, Ladies and Gents! In a twist of fate, Unmistakable here with the first of our three(!) part series on the Legendaries of Dominaria!
As regular readers may notice, this is a departure from the norm: Usually, it is my co-contributor Crazy covering all of the upcoming Legendaries, but this time we've had to do something different, and I'll tell you why: Forty Three. Dominaria has an absolutely colossal FORTY THREE Legendaries. If we left Crazy to it, odds are we wouldn't hear a peep from him until Core Set 2019! As such, strap yourselves in, as over the next few weeks we give you the low down on the most Legendary set since Kamigawa block! This week I'm going to cover our Azorius options. Next week you'll be treated to Crazy covering his home colour trio of Jund, and we'll wrap it up in a few weeks with Yami's take on all of the multicoloured options. Enjoy!
White
Baird, Steward of Argive
No man is an island. This one is a fort, however.
As a Commander?
Surprisingly, there are no other mono-white commanders with the ability to tax an opponent for attacking quite like this – Unfortunately, with his fairly small body he doesn't seem like he'd be particularly useful even in the command zone. Having said that, in metagames that contain a lot of overly aggressive decks, this can be a fine commander to slow things down a touch, especially in a dedicated pillowfort/taxation deck. Perhaps a more insidious strategy though could be to pop down an Armageddon after this guy, which will slow all attacks to an absolute crawl – Not that I'm endorsing it or anything.
In the 99?
A Ghostly Prison you can reanimate is still pretty good, even if it's only half of one. It being mono-white as well means it can go in any flavour of pillow fort from Zedruu to Grand Arbiter Augustin as an extra taxation piece against aggressive decks. But being more expensive and applying less tax than a standard Propaganda effect does reduce the odds of wanting this.
Other formats?
Depending on whether a token build of some sort takes off in the new Dominaria standard environment, I wouldn't be too surprised if this were to start appearing in Sideboards, and while it's a bit slow for Modern or any more powerful format, it may well see some play in the new Brawl format depending on local metagames.
Danitha Capashen, Paragon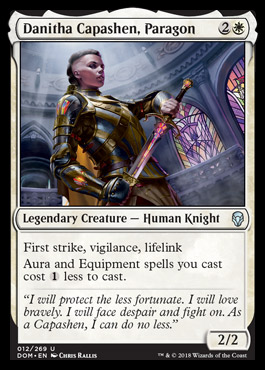 Akroma's looking a bit smaller, but suit her up and she's damn close.
As a Commander?
While I'm not usually a fan of mono white commanders, Danitha is certainly pleasant in the Command Zone. She's also surprisingly wordy for an uncommon too – 3 key words on anything less than a rare is quite something (Unless your name is Gurmag Swiftwing, of course). The combination of Vigilance and First Strike makes her a formidable adversary in combat, capable of both attacking and defending well amongst the weenies of the format. Lifelink helps cushion the blow of taking hits from the ones she can't deal with, either. What really gets me going though, is her discounting of things to make her better. As a creature with so much gain, the fact that she actively incentivises running voltron effects make her more effective than other white voltron options in my opinion – sparse though they may be, this might put her above Kemba in a non-cat build for me.
In the 99?
I'm a solid perhaps on her viability outside of the Command Zone, however. She seems an easy include in Knight Tribal builds, as any passive benefit from lords hits her just as hard as being suited up. The discount is a lot worse when it isn't guaranteed though, and she can end up being a pretty dead draw if you're in top deck mode after using up your resources in the early game (as White is inclined to fall victim to). I do believe, however, that more colourful voltron builds such as Rafiq of the Many or Uril the Miststalker may have a place for her.
Other formats?
Brawl aside, I think she could have her uses in standard. We keep Oketra's Monument around for a while, and that makes all sorts of token aggro possible. I could perhaps entertain her in a UW Monument shell utilising cheap cantripping auras like Cartouche of Knowledge to win the early game and snowball on in. Tie in a few good lords (Benalish Marshal, while colour intensive, is an option) and you could have a weenie deck with real teeth.
Evra, Halcyon Witness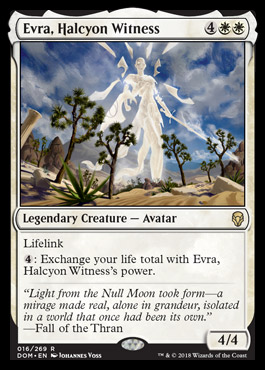 "They told me I could be anything, so I became a Life Total"
As a Commander?
In the command zone, shes Evra-thing that life gain players have asked for: A chunky lifelinker that can turn into a win condition, particularly in metas that tend to skimp on the spot removal. The only thing stopping me from endorsing her is her colour identity. Evra is in a bit of a rut where she has the potential to be a house, but I'd almost always prefer to run Trostani, Selesnya's Voice or Karlov of the Ghost Council at the helm of a life gain deck.
In the 99?
I do think she has legs in the 99 of such decks, however. While risky, she effectively functions as a second copy of Serra Avatar, a threat that can't be ignored for long, and threatens to smack you for a billion. This comes down to a meta decision though, as I can't stress enough how risky that ability is. A well placed Murder or Path to Exile after activating her ability undoes all of your work to accrue a beastly life total and leaves you at 4, well within range to be hoisted by your own petard. I'm not saying I'm averse to the idea but take including Evra with a pinch of salt.
Other formats?
This is my first fervent 'no thank you' of the set. At 6 mana, Evra needs to be a lot more than a french vanilla with a funky activated ability. Modern has Sun Titan for its White/x value needs, and Standard has plenty of threats that do more like Regisaur Alpha, The Scarab God, or Ghalta, Primal Hunger. Evra has some entertaining possibilities in Brawl, but even there I have the feeling there are better options there as well.
Kwende, Pride of Femeret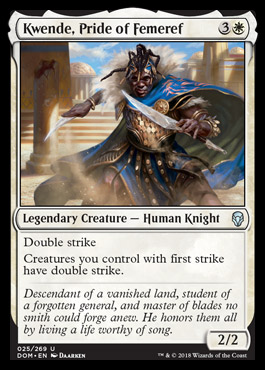 Prepare for trouble, and make it double.
As a Commander?
This is an interesting case for me. Mono white has a history of being reasonably uninspired in its anthem effects – see Avacyn, Angel of Hope or Elesh Norn, Grand Cenobite. Kwende does something different. Not only does he give one of the most powerful offensive keywords in Magic, he cares about who he gives it to. In the true spirit of commander, this is the sort of deck building constraint I love. Baneslayer Angel, Archetype of Courage, Jazal Goldmane – there are so many well costed combat powerhouses that have First strike. Kwende takes those that wouldn't usually see play, and amplifies their effectiveness. I adore it.
In the 99?
In the 99, I'm much less optimistic. While Kwende has potential in the 99 of a Knight Tribal deck (which I'd be much more inclined to put him in charge of), his ability is much narrower when you aren't building the deck around him. As such, there are times that he'll just straight up be a 2/2 double strike for 4. While this isn't necessarily bad if you're winning the board, but if you're desperate for gas in the late game you're gonna be pretty dead drawing this guy.
In other formats?
I'm going to take a pass on this one as well. 2/2 for 4 without any effects is pretty dead in the water in any format. While your opponent ramps into The Scarab God in standard, this guy won't do much at all (and will be eternalized into an absolute nightmare). In modern, you're looking to put yourself in a winning position on your fourth turn – This guy doesn't exactly rub elbows with the Tarmogoyf well.
Lyra Dawnbringer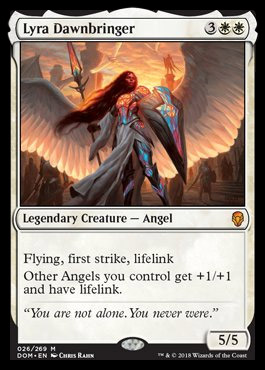 Ye gods, a (pretty good) Angel!
As a Commander?
I'm glad you asked, because now you can join me in being genuinely surprised that this is the first Legendary Angel Lord ever printed. While Avacyn, Angel of Hope is an excellent lord that is legendary, and while Herald of war cares about angels but isn't legendary, meet the first card that does both. As such, I think she'll have legs at the helm of angel tribal decks everywhere, I know I've seen many in my time, and they are all happy to see this.
In the 99?
As above, for the most part. Without the consistency of the command zone, Lyra is effectively a second Baneslayer Angel, minus the protection, plus a lord ability. As such, she'll rarely be better than Baneslayer (a rare inclusion in Commander anyway), unless your group is running light on dragons/demons or you have a critical mass of other angels to boost. The keywords are super strong for a brawly meta, though.
In other formats?
Now, feel free to call me out on this: Lyra feels like a Crested Sunmare in standard: Insanely high potential card, but there may not be the deck for it. It runs like a Baneslayer Angel, but Baneslayer didn't have a standard where unkillable gods ran rampant, or 12/12 dinosaurs ruled the earth. In short, creatures have gotten better, and I'm unsure whether losing potentially relevant protections will do it. With Baneslayer not impacting modern in anyway it seems likely that Lyra won't either; though I'd be remiss to completely dismiss her shot in brawl. There are, as of this article, 13 Angels in standard. Given the proper help from the tribal staples in Ixalan, a cool little angel tribal build with Lyra at the helm may be just the things for our feathered friends.
Shalai, Voice of Plenty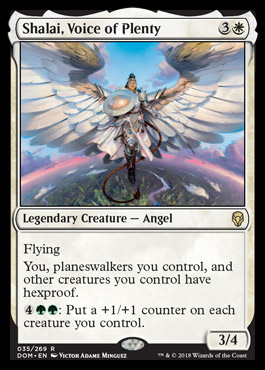 This isn't the first time that one voice does plenty.
As a Commander?
In the command zone, I like this guy. He smacks of Sigarda, Heron's Grace, but caring less about off-tribal and more about utility. He comes down quickly and hates out a lot of interaction with your team – throw him down with an Avacyn, Angel of Hope on the field and you've got a near unassailable board.
In the 99?
You know what? I think he has what it takes. Tokens is always a favourite in EDH, and he adds an ever important layer of protection and resilience to a token swarm. He's as flexible as Sigarda in decks that can have him due to his Green/White colour identity, but he more than makes up for it in giving your giant Marit Lage tokens hexproof!
In other formats?
Again, I think this guy could be a popular choice in standard, at least in sideboard. Sigarda saw use in the sideboard of Green/White humans during her time in the format, and I have long suspected an aggressive Selesnya build is being pushed internally (seeing Siegehorn Ceratops, Growing Rites of Itlimoc and Huatli, Radiant Champion fail to make a proper dent in standard quelled this dream, somewhat). If a proper win condition for the deck surfaces, this guy will be there to soak up itlimoc mana and making your dudes huge. You know? That sounds pretty good to win with, actually.
Teshar, Ancestor's Apostle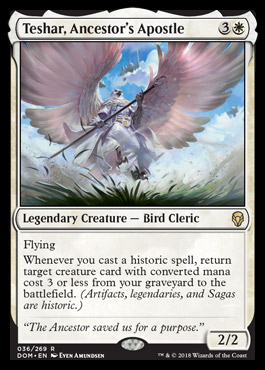 When your board falls in battle, this guy is more than happy to help peck up the pieces.
As a Commander?
I'm in two minds about this. First, he's a build around commander. The more you care about weenies, the better he gets. The more you care about historic spells, the better he gets. Second, he's an engine – I'm super hot on my engine commanders, having run The Scarab God, Captain Sisay and Karador, Ghost chieftain as some of my favourite decks of all time.
However. He cares about weenies. They don't hold up in EDH as much as they do in other formats, and our efficiently costed aggro staples get worse after a certain threshold. I will just drop Serra Ascendant in there as the exception to the rule, however. Second, his colour identity lets him down greatly. Sure enough I've said this about every monowhite commander in this article, but historically it is the hardest combination to get a solid build out of. They can be good – even great – but they will be slow, and lack the options of other decks and colour combinations.
In the 99? 
I'm more optimistic about this. Teshar is an engine in more colourful builds, and increases resilience a surprising amount. He could drag back hatebears in a star build – Thalia, Guardian of Thraben and Ethersworn Canonist are great examples of historic spells which are also reanimated by his effect. The first use to come to my mind was setting up the infinite loop of Saffi Eriksdotter and Renegade Rallier – Saffi herself being a historic permanent. Cast her, Reanimate rallier, who then reanimates Viscera Seer, and you've won then and there.
In other formats?
I've seen stranger things happen, but I'm sceptical. 2 toughness is not much, especially in a standard with Shock and Lightning strike. Or Fatal Push. Or Moment of Craving. You catch my drift. Every removal spell in standard kills this guy, which is not what you want from your value engines.
Blue
Naban, Dean of Iteration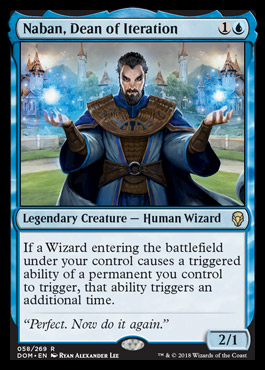 If at first you don't succeed, you probably aren't playing blue.
As a Commander?
Naban has legs in the Command zone, due to being a tribal enabler for a very popular tribe. The other draw that blows my mind is the permanent doesn't just have to be a wizard, a wizard triggering any permanent activates this guy. Azami, Lady of Scrolls next to this guy can draw a deck out very quickly if you have a steady flow of wizards and Intruder Alarm on board, for example. That makes me way too excited to try.
In the 99?
Naban's powerful ability may make a powerful combo enabler in the right shells. Following the train of thought from the previous point, Naban, Intruder Alarm, Lich Lord of Unx and Bloom Tender creates infinite mana in three colours. While a bit out there  (Exodia, obliterate!) There have to be other options out there that somebody more creative than I can dream of! He also works wonders in wizard tribal builds such as Inalla, Archmage Ritualist, as he doubles the effects of every copy of each wizard that enters play. Truly magnificent.
In other formats?
He could be a real deal. Wizard tempo is a hot topic in both Standard and modern at the minute (where you have super powerful wizards like Snapcaster mage and Dark Confidant running about), an aggressive two drop to help generate tempo and value could be something the deck wants.
Naru Meha, Master Wizard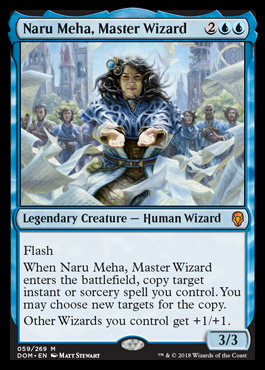 From the creator of Flash Dance, Flash Ancestral Vision.
As a Commander?
Whereas white was temperate with its commanders, blue is looking hot for my favourites this set. Naru is a decently sized flash creature that can come out of the command zone to help you either double up on your spells, or protect your wizards in a pinch. A blue lord as a combat trick seems too cute for a primary purpose, but to double up on your own Flusterstorm or Ancestral Vision seems like a dream come true from a commander.
In the 99?
I feel like Naru Meha will do plenty of work in the 99 of any wizard tribal build, as well. A second Dualcaster Mage with additional benefit is always going to get my vote in wizards, and her copy ability is further amplified if you happen to be running Inalla, Archmage ritualist out of the command zone.
In other formats?
As with Naban, if the Wizard tempo deck exists, this could top the curve incredibly competently. Wizard's Retort and Wizard's Lightning are both prime value targets to grab copies of, and beefing up your forces is fantastic for pushing those last points of damage through.
Slinn Voda, the Rising Deep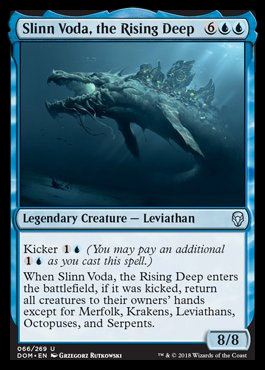 A thoroughly… Whelming… Legendary.
As a Commander?
The interesting build around makes this a fine commander in my eyes. Load your front end with merfolk, your top end with big sea beasties, then enjoy the blowouts of having a one sided evacuation in your command zone!
In the 99?
I'm even more optimistic about this guy's chances in the 99 of similar builds. Particularly in Merfolk decks, this is a game ending bomb that clears the way for your fish to swim to victory. This could even have legs (Or fins) in creature light blue/x decks, or any deck that wants to run High Tide. Throwing this leviathan out there and then reloading the board with value entry effects seems like a very blue thing to do.
In other formats?
Alas, the mana hungry nature of Slink Voda lets it down in this department. 60 card decks rarely see 10 mana unless they're tron, and tron doesn't want this. If any other decks see the full 10 mana to get full value from your Rising Deep, odds are you've flooded hard and should have died turns ago. In standard at least for the moment, I'll stick to Torrential Gearhulk at my top end.
Tetsuko Umezawa, Fugitive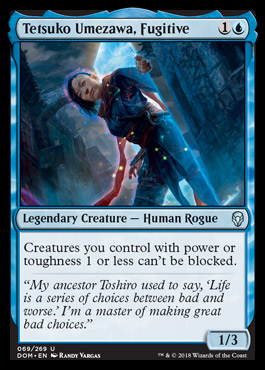 'I think you will find, my style is unblockable'
As a commander?
While the interesting build around theme is present once more, I'd give this one a miss. Monoblue weenies might be fun, but lacking the heavy hitters like Master of Cruelties or Guiltfeeder I am hesitant to recommend it.
In the 99? 
Here Tetsuko has very real potential. The ability to surprise an opponent by dropping her from hand can cause blowouts, and other colours have many more interesting things to allow to be unblockable. If only Doran, the Siege tower was blue..
In other formats?
I love the thought of it, but her incompatibility with any current strategies make me sceptical. Perhaps as a one of to force damage through with the weenies wizards deck. Has inherent non-synergy with Naru meha, Master Wizard, but stranger things have happened. Perhaps in modern, as those weenies wizards have much stronger abilities, and Naru meha is less likely to see play.
Zahid, Djinn of the Lamp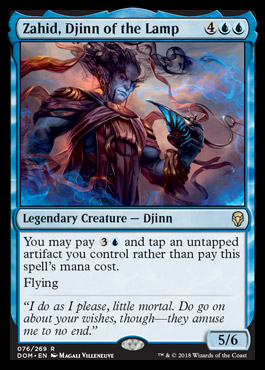 Phenomenal cosmic power, itty bitty living space.
As a Commander?
Now, hear me out here: Mono. Blue. Voltron. This guy gets cheated out (avoiding the commander tax no less) on artifacts, like equipment. Have a copy of Hero's blade on board? Tap it to summon your djinn… and then equip it to him for free. This guy is a massive naturally evasive threat that completely avoids the commander tax, so ticks a surprising amount if aggressive boxes, for a monoblue commander.
In the 99?
Significantly less exciting. Zahid shines in his resilience, as a one off creature in the deck he is just a Mahamoti Djinn with the option to jump through a hoop to cheat, somewhat. There are only rare occasions when I even remotely consider a vanilla creature in EDH, and this is not one of those times.
In other formats?
He makes a good argument for constructed viability. The potential for a 4 mana 5/6 flyer is huge for tempo, especially one that avoids a lot of the premium removal in the format, like Fatal Push or Cast Down. Anywhere else he will be slightly sub par, but I'm optimistic for his standard power level.
And that is the white and blue of Dominaria, folks! What do you think? Bombs or duds? Feel free to let us know, and if you want to see more like this, be sure to like us on Facebook for your latest and greatest in Commander tech. UNTIL next time my friends, Unmistakable out!