Hi all! Crazy's back and it's time to look at all the shiny new legendary creatures we all get to build with. For those recently joining us I'll be discussing them mostly from an EDH standpoint (Both as commander and in the 99) and some analysis on whether they could be usable in any other formats. Starting off with probably the least interesting – which isn't saying much since there are some prime legends in this set:
Djeru, With Eyes Open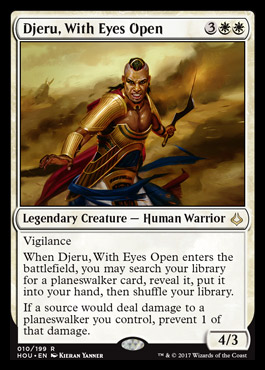 Gideon Tribal just got a new gimmick.
As a commander?
I don't really see it myself. If you were going to play Superfriends, then why limit yourself to one colour? And if you're dedicated enough to play Gideon tribal – why are you not just on Kytheon, Hero of Akros and playing literal actual Gideon in the command zone? Although strictly speaking being able to grab a different Gideon every time would be better I guess.
In the 99?
Superfriends decks are all over this – Stops your planeswalkers from dying as hard and grabs you a 'walker when you play him for absurd value. Especially if that one is Venser, the Sojourner to then flicker him for value. Otherwise you could probably do without.
Other Formats?
I'm expecting him to hit standard for a few months at least until Gideon, Ally of Zendikar rotates – After that it's uncertain. 5 mana is bit much of an ask for other formats though, especially ones where you aren't really going to see Superfriends decks.
Unesh, Criosphinx Sovereign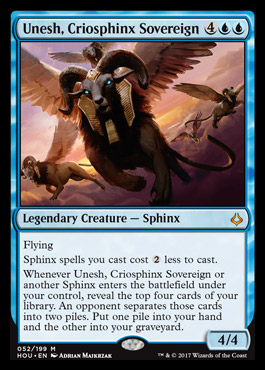 Riddle me this: Who asked for this card?
As a commander?
In case it wasn't obvious – He wants you to play Sphinx tribal. Now I'm perfectly happy (in fact, I'm excited) to play some Sphinx tribal – the main problem with that is that in order to play this guy in the Command Zone I have to drop such bombs as Isperia, Supreme Judge and Magister Sphinx, both of which are incredibly powerful sphinx that are not mono-Blue. That being said, both of his abilities are a silly amount of value – So if you want to make a Mono-Blue Sphinx deck then more power to you!
In the 99?
Generally speaking new tribal commanders don't tend to end up in 99s since they want to be exclusively built around. While that's the case to some extent here the fact he's not Azorius or Esper coloured means there is some argument to putting him in your current Isperia, Supreme Judge or Sharuum the Hegemon Sphinx Tribal list if you wanted those colours.
Other Formats?
Likely not. This card was a love letter to commander players above all else – It's a bit expensive as a "Tribal enabler" for Standard and just straight up too expensive to really play in other formats.
Razaketh, The Foulblooded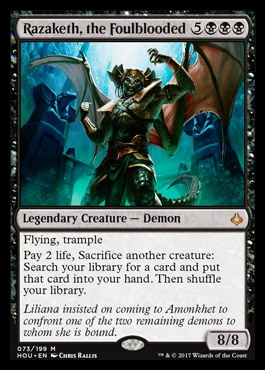 He certainly has some Diabolic Intentions…
As a Commander?
Jesus lord yes. He just seems perfect to me for Big Mana Black or Combo Black. There's not a huge amount to say about him that is particularly interesting or unique, but as well as having a pretty devastating body clocking in at a whopping 8/8 with two different forms of evasion – His ability to repeatedly Diabolic Intent repeatedly for only 2 life a time at instant speed is simply mind-boggling to me. He may not do anything new but he does what's already established incredibly well.
In the 99?
Were you running Rune-Scarred Demon? Well he just got some pretty stiff competition. Obviously it's not going into many super-slick competitive decks unless you plan to cheat him out via Reanimation strategies but for the decks that want him he's going to be an absolute force – Even if he never gets to turn sideways. It also lets you pair him with some silly cards to fuel his ability outside of Black like Avenger of Zendikar.
Other Formats?
Now this is a tricky one. I've previously mentioned how good a reanimation target he is but in formats with powerful reanimation he's fighting for one of very few spots those decks usually keep for threats like Griselbrand or Iona, Shield of Emeria. That coupled with the fact he needs additional sacrifices to use his tutor ability leads me to think he may not see play in any other formats – Which honestly makes me pretty sad.
Neheb, the Eternal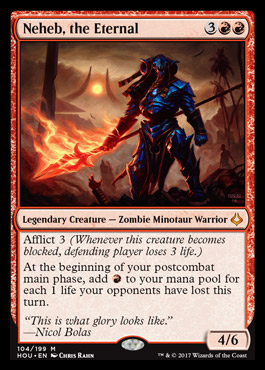 Battle-Cattle Round 2: The Revengening
As a commander?
This is really difficult to judge. As a person who likes to win his games on the board I am a huge fan of playing him as Rakdos, Lord of Riots with noncreature benefits – But having said that I've even seen a storm build or two floating around using his ability to be a walking ritual. The biggest problem you'll be contending with using him in the command zone is the fact you're in Mono-Red, traditionally the weakest deck in EDH.
In the 99?
I think Heartless Hidetsugu is all over gaining 30+ mana after tapping I gotta say. For other decks the fact he only makes Red mana is an issue – Not necessarily a dealbreaker though, and I expect to see him in beatdown decks as a powerful ramp source – the likes of Marath, Will of the Wild, Adriana, Captain of the Guard or Ruric Thar, the Unbowed . Ruric especially since he needs those creature-base ramp sources.
Other formats?
Mostly doubtful (5 mana, ugh) but I feel he might see some fringe standard play – We do still have some X-Cost burn spells that could take massive advantage of a mana infusion like that. For example: Attack with Neheb (Unblocked) + Uncaged Fury for 10 damage. Main phase 2 cast Fall of the Titans for X=9 with just that mana, and you should have one more lying around somewhere.
The Locust God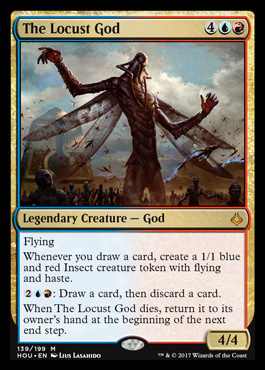 Much like a real locust, swarms everything and refuses to just go away.
As a commander?
This dude oozes combo potential. He'll likely operate similarly to Niv-Mizzet, the Firemind, using combos to draw your entire deck for fun and profit – More specifically Skullclamp and either Phyreixian Altar or Ashnod's Altar will do the trick. Alternatively this could enable a legitimate Red/Blue token build in commander – I can't speak to how good it would be but it's nice to have the option. Notably – He and all the other gods get a free ride on commander tax to some extent since you'll more often than not be casting it from your hand. so that's nice.
In the 99?
I mentioned him above so it should probably not surprise you too much when I say that this might not be the worst card in the world in a Niv-Mizzet, the Firemind deck. I also wouldn't be horrified to be playing it in Arjun or Nekusar, increasing your damage output by turning your draws into damage as well. Seems a bit cute to be in anything that isn't pretty much all about that card draw though.
Other Formats?
While I wouldn't be too surprised to see it hitting the fringes of standard, I doubt any other formats will support this guy at 6 – If Niv-Mizzet isn't seeing play at the same cost with easier combos I doubt this god will.
The Scarab God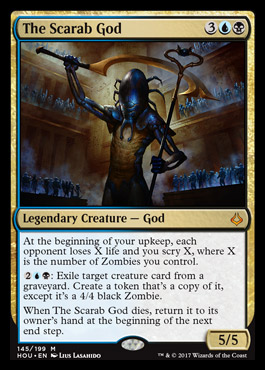 Eternally Eternalizing everything.
As a Commander?
Unmistakable would kill me if I didn't give him a good review here since he's already bought most of the pieces for his Scarab God Zombie tribal. Good thing I was going to anyway because I love the design of this card. I personally would take it in a different direction though – Reanimating small creatures with powerful combat effects that would get stronger from being a 4/4 like Cephalid Constable. So there's at least two good directions to take this one. Like the Locust God as well, he gets around commander tax admirably.
In the 99?
Feels less good in the 99 I think. The dude screams "Build Around me!" which loses some of it's appeal as a singleton in a 99 card deck. Not to say I wouldn't play him in a Grimgrin, Gisa and Geralf or Thraximundar zombie tribal however.
Other Formats?
For most formats he's pretty much a write-off for being 5 mana with no immediate effect. Standard may or may not be a different story though – It entirely depends on how UB Zombies will look after this set drops. It's also quite relevant that creatures "Eternalized" with his ability keep all of their other stats – So it may not be entirely unlikely that a deck revolving around eternalizing powerful creatures like Ulamog, The Ceaseless Hunger or Razaketh makes it's way into standard either.
The Scorpion God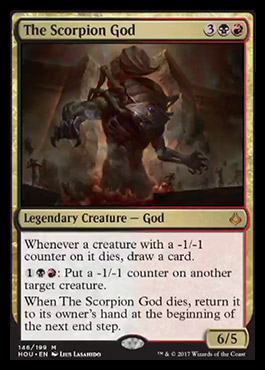 Current record: 3-0. Some of you may know what I'm talking about. Spoilers otherwise.
As a commander?
BR Wither Tribal? Sign me up. As long as you're in a creature-based meta this may be one of the best RB commanders we've seen in a long time as he brings his own removal and card advantage. There's some pretty great tech that might finally get to see the light of day as well including personal favourite Everlasting Torment, which just seems obscene in this deck. Notably he can also provide a counter on the way out since you'll be sending him to the graveyard to dodge commander tax anyway.
In the 99?
I don't see any particular reason he shouldn't be in a 99 – but I'm not entirely sure whose 99 in particular. There aren't really any other legendary creatures in RB or RBx that deal with -1/-1 counters in the way this guy wants to. You could probably put him in a Rakdos, Lord of Riots deck that wants to have more creature-based ways to deal with weenies I suppose since Rakdos will make him cheaper.
Other Formats?
I know some people playing around with the idea of Jund -1/-1 counters in standard and while I think that could have some legs I'm not sure if it will fit into any other formats just due to his cost and colouring.
And there it is – A whistle-stop tour of all the legendary creatures in Hour of Devastation. While I'm incredibly sad that we didn't get a Mono-Green legendary to round out the apparent cycle of mono-coloured legendary creatures (#FreeTuya) there's not a single card here that I would outwardly describe as "Trash rare", they all seem to have their niche and I'm more than willing to commend Wizards for that.
As is tradition at this point – One of these is going to make up the first no-cash commander of the Hour of Devastation season, and if you have one of them you particularly want to see or you just want to chat about Magic in general please don't hesitate to drop us a message on our Facebook Page or our shiny new Instagram Page!
Now if you'll excuse me I have to brew a competitive Neheb deck to settle a bet. Crazy out.