Hi all! Crazy's back and it's that time of year again when I get to look at all the shiny new legendary creatures we all get to build with. I'll be discussing them mostly from an EDH standpoint (Both as commander and in the 99) and some analysis on whether they could be usable in any other formats. Starting us off…
Oketra the True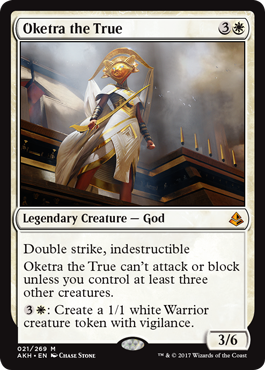 A giant cat-god. It's like the internet designed a magic card.
As a Commander?
Probably one of the better gods to use as a commander – but I'm not sure that's saying much. To me she feels just a little unfocused, her statline and natural double strike suggest that you should be using her in a voltron build of some sort but her rider of "Not a creature unless you already have some" hinders that somewhat in my eyes. I'd probably build her similarly to Kemba, Kha Regent, trading off the reliability of always being able to attack for being able to hit a lot harder when she does, with the benefit of being able to go wide if necessary.
In the 99?
I feel she gets a lot better in the 99 – For one you get access to token effects in the other colours, and I'd love to play this god in a Trostani or Doran deck that can benefit from her huge booty. Doran especially with that double strike.
Other formats?
I think it's not unlikely she could find a place in standard – There are plenty of token makers and resilient creatures now – Both in the case of anything with the new Embalm mechanic – but I think that restriction of "Needs friends to live" hurts her viability to the point of near-unplayability in other formats.
Kefnet, the Mindful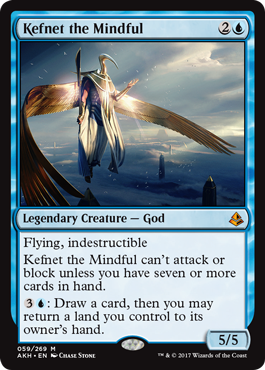 The most blue god I ever did see.
As a Commander?
Do you enjoy draw-go control but hate having friends? Then have I got the god for you. Of course drawing cards is all this god really does – but it helps that if you keep your hand full enough it can certainly be it's own win-condition through commander damage. Truth be told I'm not entirely sure how to break the land-bouncing ability (Other than to fill up your hand for attacking and blocking) but I do like it as a way to re-use your utility lands like Halimar Depths.
In the 99?
My first thought was that this would be pretty great in a Patron of the Moon list – pick up your utility lands to help attack or block and then drop them all again in a hurry – But equally he's just very good in any deck that wants to draw-go a lot. Outside of mono-blue I could see him making an appearance in Tasigur and Dralnu lists near you real soon. Also not abysmal for GUx Land Matters decks if anyone's looked at anything like that as a way to consistently use your landfall triggers.
Other formats?
It's just too slow for anything other than standard – But in standard I think it could definitely find itself a control shell similar to the Gearhulk Control lists of not too long ago, using Kefnet as both win-condition and advantage engine. It's somewhat worth noting that this is also a viable Tiny Leader, and probably one of the better control options to lead a deck with there.
Bontu, the Glorified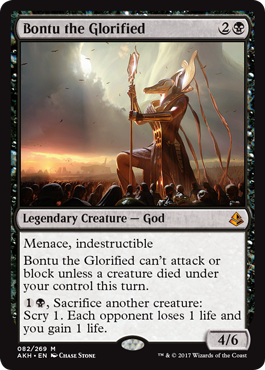 Hi Not-Anubis, how are you today?
As a Commander?
Oh lordy I wish we could just swap that Power and Toughness and call it a day. He's still pretty fine though – You need to keep him topped up with creatures to eat but considering you're playing Black I'm sure you can work something out with the local zombie populace. And for your sacrifices you get more than enough of a reward, with a Blood Artist-esque trigger and a scry on top of enabling your god for a turn – And with that Menace of his he can hit very hard with suicide black tricks like Hatred
In the 99?
Pretty much any Black-based deck that already cares about Morbid triggers or Tokens definitely wants this guy, being both an enabler and a payoff for both archetypes. In particular I could see him in Lyzolda or Tymaret style "Sacrifice Matters" decks as a key card.
Other formats?
You're going to hear this a lot regarding the gods but that rider of "Must kill to live" just ends a lot of hope of seeing him in other formats – again, barring Standard, where I think he'll be quite the house alongside Zulaport Cutthroat, bringing back good old Aristocrats. Also doesn't die to Grasp of Darkness – A big point in it's favour.
Hazoret the Fervent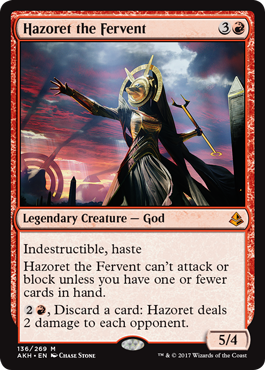 Alternatively, Hazoret the Hellbent or Hazoret the Pervert
As a Commander?
Controversial opinion, perhaps, but I think that the Mono-Red god may perhaps be the better commander of the five gods – Notably thanks to his 5 power and haste he really doesn't need to hit that much to score a kill via commander damage, and thanks to the built-in haste it'll be difficult to keep him from attacking for more than a turn. Unless you have any cards in hand of course.
In the 99?
His threat diminishes significantly when he's not in the driver's seat – but even as a passenger he can deal a silly amount of damage in a deck themed around Hellbent or Madness, for example a Malfegor list, or just one that generally maintains an empty hand due to playing everything possible all the time like Rakdos, Lord of Riots.
Other formats?
A standard powerhouse for sure, perhaps featuring alongside Jank Bank staple Lupine Prototype and friends. 4 mana feels a bit too steep for other formats though when you want to play this in an aggro deck that's curving out at 2/3 mana.
Rhonas, the Indomitable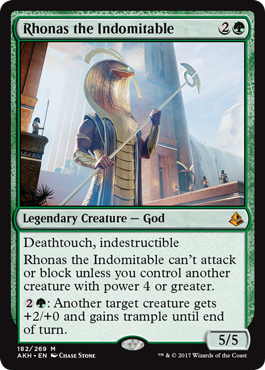 The big, green god of Snek.
As a Commander?
The simplest god I think – It's big, green and hits stuff good – And while there are a lot of commanders that do that, Rhonas likes to share the goods. He also has probably the easiest rider to maintain his status as "Honorary Creature", since you only need to bring along one friend, which he can then buff if it isn't big enough.
In the 99?
Shout out here to one of my favourite casual Gruul commanders Stonebrow, Krosan Hero for being the best home to Rhonas there possibly could be thanks to buffing those tramplers even further. Otherwise he goes in any deck that wants to hit hard and hit good in green – He's simple but that doesn't make him bad.
Other formats?
Same as all the previous gods here I think – More than fine for standard (Especially with the silly amount of 4-power 2-mana creatures we seem to have now, holy damn) but the rider just seems to exclude him from any serious play in more powerful formats.
Hapatra, Vizier of Poisons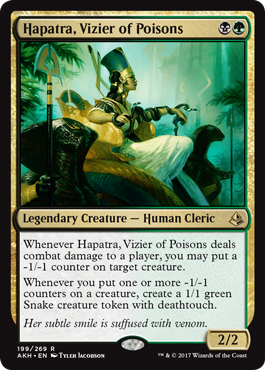 This is why we don't let the crazy cat lady loose in the reptile house…
As a Commander?
I love it. It comes out cheap and has abilities that stay relevant for the entire game as long you're advancing your plan. On top of all the new snakes and support for -1/-1 counters we've had revealed recently I don't think it's an exaggeration to say you'll see a few people playing this deck in the near future – Potentially myself included.
In the 99?
Less useful since you can't count on her do to be around when it matters most, but I gotta say that Atraxa loves helping this poison mistress cultivate her snakes, and she of course fits into any other deck that happens to be focusing on the -1/-1 counters.
Other formats?
Standard – Hell yes. Anything else? not impossible. 2 mana means it's certainly in the realm of playable mana-wise but I just don't think there's a deck that wants her right now. But in the future? Who knows?
Neheb, the Worthy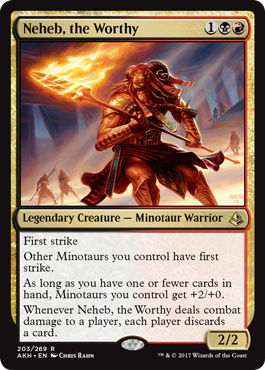 Before this guy I used to refer to Mogis as the "Battle Cattle" but I think he just got his title stolen
As a Commander?
Literally built from the ground up to be the commander of a very particular deck, so he's certainly more than viable. Unless you were planning to put someone else at the head of your Minotaur Tribal deck? Yeah I thought not. And unlike certain other legendary tribal creatures we've been waiting for for a while that were utterly disappointing (*Cough* Ulrich *Cough*) this guy actually makes your Minotaurs a force to be reckoned with, providing a decent source of card disadvantage and two relevant buffs.
In the 99?
Ha! Oh wait you're serious. Yeah probably not – If this guys not at the head of Minotaur Tribal deck he's in the 99 of said tribal deck and in that case you're not building a tribal deck unless you're trying out "5-colour Changeling Tribal" (Which I did, it was pretty fun) and using this guy as a lord.
Other formats?
Tribal is fun but ultimately not the most competitive thing in the world – In Standard I think it will be fine but anything more competitive and this falls woefully short of the mark, being 3 mana and not even surviving a Shock.
Samut, Voice of Dissent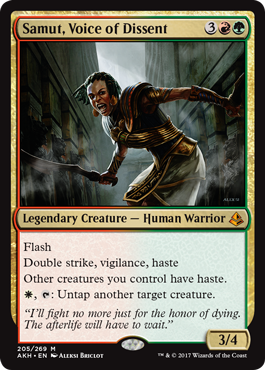 I'd like to take my Keyword Soup to go please, with extra Anthem sauce and an ability on the side, thanks!
As a Commander?
She does a lot – Most of it isn't particularly flashy (Apart from the Flash) but if you were looking for someone to round off a good old-fashioned Naya Beatdown deck you've certainly come to the right place. My recommendation for the first in the 99? Odric, Lunarch Marshal. Oooooh yeah.
In the 99?
Being 3-colour in identity certainly limits the decks it could see play in and being just a bit too small for Mayael, queen of the Naya to cheat in doesn't help things (Although the untap would certainly be a boon to her). That being said I think any Saskia deck worth it's salt will be all over this, as well as token-based Naya decks like Marath who want her for the haste anthem.
Other formats?
5 mana is steep. Modern is supposed to be a "Turn 4" format and it certainly isn't seeing any play beyond that. In standard though I expect this to be a juggernaut in GRx midrange – she doesn't even need that activated ability to lay the smackdown.
Temmet, Vizier of Naktamun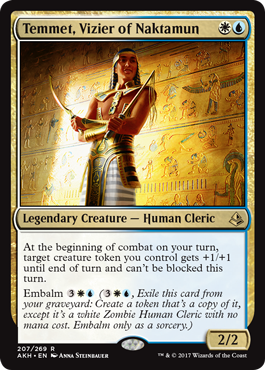 Graveyard shenanigans? With MY commander? It's more likely than you think.
As a Commander?
Dope. Comes down early and does it's thing. then when it dies you can let it go to the graveyard and Embalm it back to the command zone! – One thing to bear in mind though is that the token, despite essentially being a 3/3 unblockable, does not deal commander damage. Sorry Voltron fans! But if you were to, say, use Rite of Replication to make a token copy of something like Akroma, Angel of Wrath or Avacyn, Angel of Hope that would be totally okay.
In the 99?
Certainly seems fine in UWx token builds – If only those really existed. He's in the unfortunate position of having a really powerful ability but not much of anything to use it with apart from the occasional rogue build of something like Roon of the Hidden Realm or Geist of Saint Traft.
Other formats?
Probably another consigned to the "Standard at best" bin, but at only 2 mana he certainly has the potential to be broken in the future – We'll just have to see. There are more than enough powerful tokens to choose from in standard though now with the Embalm mechanic being a thing – Honored Hydra and Vizier of Many Faces in particular seem quite powerful in their token forms with this effect.
And a whole NINE legendary creatures later we're done with Amonkhet. Gotta say I'm pleasantly surprised at the amount of variance in these creatures after the mono-coloured onslaught that was Aether Revolt – And especially the new decks that have been really opened up by this like UW Tokens and Actual Minotaur Tribal. Enjoyed what I've written? Think I'm right? Think I'm wrong? Want to see one in the next No-cash commander? Drop us a line on our Facebook Page or in the comments below – We'll see it.
Crazy out.