Hi guys, Crazy back from his hiatus, jumping straight back in for a new set of Legendary Encounters from Aether Revolt. For those new to the series, here I talk about all of the new legendary creatures in a set, how viable they are as a commander, in the 99 and whether they look like they'll have impact on other formats. From the top, in collector's number order…
Sram, Senior Edificer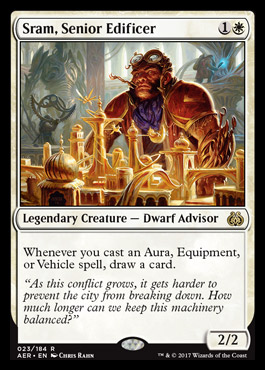 "…And we shall call him… 'The Draw-f' " – Wizards, probably
As a Commander?
Certainly has a niche – It's not often we get anything that directly interacts with both equipment and auras. And even less often that we get a mono-white commander that gives honest-to-god card advantage. The main problem with this deck would be that in your traditional Aura/Equipment Voltron deck, your commander is the Voltron target since it can't be permanently removed (See: Uril the Miststalker or Rafiq of the Many) – In this deck, we'd need to find the right ratio of good voltron targets. Thankfully in White we have Puresteel Paladin and Kor Spiritdancer among others that would love to sign up for that – as well as give you more cards.
In the 99?
You know those guys I mentioned above? The voltron decks? Yeah they'd love this guy. An Enchantress effect that also works on your Lightning Greaves is pretty sweet in any deck that's playing a lot of Auras. It should probably also go without saying that Depala, Pilot Exemplar is real excited to get Sram on board.
Other Formats?
This is going to see play in a lot of formats I think – If a Standard deck based around vehicles shows itself after the surprising bans last week (Unmistakable's take on that here) then it could see play in that. Tiny leaders is another entirely possible place this could see a bit of play, with Kemba and Geist of Saint Traft both saving a spot for the Drawf. The main place I think this will see play though is Modern. You may or may not have heard of the deck "Cheeri0s", a storm-esque deck based around using the effect of Puresteel Paladin to draw your entire deck by casting 0 mana equipments and winning via the Monastery Mentor you played earlier. In that deck Sram is Puresteel Paladin 5-8, increasing the consistency of the deck hugely, since the early Paladin is what makes your game.
Baral, Chief of Compliance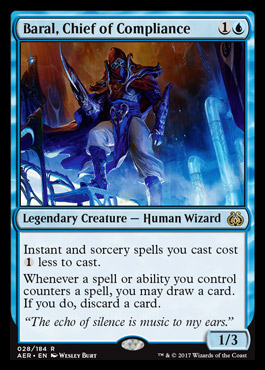 For the discerning blue player who really, truly appreciates the word "No."
As a Commander?
This is a commander for the guy who wanted to play the Talrand, Sky Summoner, Islands and Counterspells deck but wanted to play something a little different. On the other hand, it's not totally outside the realm of possibility to try something a little different – Mono Blue storm could be pretty interesting with what's essentially a Goblin Electromancer in the Command Zone.
In the 99?
As I said above, the Talrand deck would love to have this guy, Turns all of your counterspells into Counter + 2/2 Flyer + Loot. In terms of other decks though, any Storm deck would love a second Goblin Electromancer effect, and he definitely has a spot in a good Azami, Lady of Scrolls list
Other Formats?
Something something Storm something. Might have a spot in Modern storm as a less mana-intensive Goblin Electromancer. I definitely wouldn't be surprised at all to see it in a lot of Standard decks as well – Aetherflux Storm seems like a fun thing to try with this as a main piece, or as support for a control deck, turning your counterspells into card selection as well.
Yahenni, Undying Partisan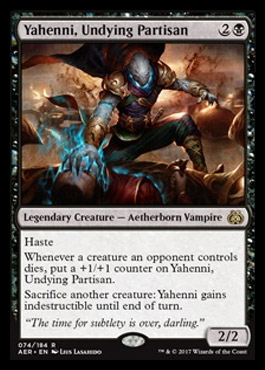 This girl likes to talk strange, darling.
As a Commander?
Some might argue that Yahenni isn't going to be very good in the command zone. I would argue that she very much has a niche. The body isn't great, the Haste is eh, the +1/+1 counters effect could be better. However – She is the ONLY Mono-Black commander that has an ability with cost "Sacrifice a Creature:". Given the amount of infinite combos that require a sacrifice outlet to go off, having one in the command zone seems like a powerful enough Gimmick to justify in some decks.
In the 99?
Probably not great. There are better sacrifice outlets, Viscera Seer and Carrion Feeder to name two. So then we're playing it for it's body? Except we've already agreed that we can probably do better. The fact it can ignore some boardwipes might be enough of a niche for certain decks – although I'm not entirely sure which.
Other formats?
Will probably see some standard play, considering Zulaport Cutthroat and most of the rest of the GB Aristocrats deck is still standard – But now we have our Nantuko Husk back, and it's an Aetherborn Vampire. Could potentially hit Tiny Leaders as well if that makes a comeback.
Kari Zev, Skyship Raider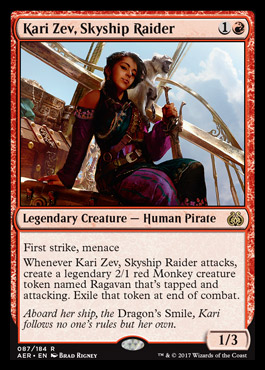 Dora the Explorer got a pretty sick airship.
As a Commander?
Probably not. I'd put this in the same category as Tuktuk the Explorer and Brothers Yamazaki. The category's name is "Bad Red Aggro".
In the 99?
Struggling to find a spot for this one too – It's a good unique effect but apart from in a "Legendary Matters" themed deck I'm not sure where I see the Monkey token being especially useful.
Other Formats?
Now here's where we have something to say about Dora and boots – Attacking with 3/4 worth of stats turn 3 is nothing to sneeze at in Standard – And that's assuming you didn't have a turn one or three play to boost the damage of that. Notably the Monkey exiling itself at the end of combat also works to trigger Revolt abilities if that becomes relevant in Standard.
Rishkar, Peema Renegade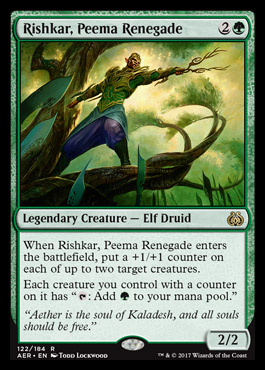 It's like Knighting two of your creatures, except instead of becoming Knights they become honorary Llanowar Elves.
As a Commander?
+1/+1 counter based ramp? I'm pretty on board with that idea. There are certainly cards that could support a strategy like this – Although I wouldn't fall into the trap of taking this in the "Elf Tribal" direction – There are already far better commanders for that. However…
In the 99?
In the elf deck this could be an all star – it effectively turns two of your non-dork elves into even more mana. And we all know how much Elf decks love their mana. Otherwise, any deck heavily based around +1/+1 counters like Marath, Will of the Wild or anything running Cathar's Crusade would love to pick up this creature – Just playing it into a somewhat developed board will massively increase your mana supply.
Other formats?
Might see some play in standard? Nissa, Voice of Zendikar certainly lends this some merit, as does the new Oath of Ajani and even the mostly forgotten "Support" mechanic from Oath of the Gatewatch. Not sure if the +1/+1 counters deck needs that much monogreen ramp though.
Hope of Ghirapur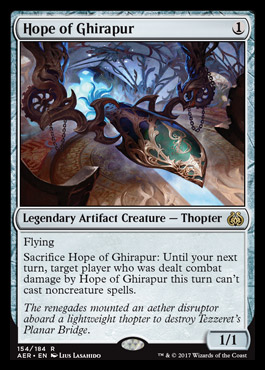 Introducing the best Suntail Hawk ever.
As a Commander?
So before this our options for colourless commanders were Karn, Silver Golem, an Eldrazi Titan or get stuffed. As far as a new commanders go this is very good – Colourless Stax/Prison is somewhat of an archetype but was missing a proper commander. Now that we have this commander I can't help but feel sorry for the poor sod on the other side of the table, considering that this is the format with all of the best recursion AND Ramp you will probably be hitting someone with this every turn in a well-built deck.
In the 99?
This goes in a LOT of decks. It's a one mana flyer, so Edric wants it. It's a cheap body with a good effect so Meren and Karador want it. It's a denial effect so Grand Arbiter Augustin wants it. It's a colourless effect to stop your spells from being countered so most beatdown decks probably want it. The only real weakness is that it has to make contact, so a good Prison deck or one with an abundance of early flyers will be able to cast their noncreatures with abandon.
Other formats?
Hell yes. That is a very powerful effect for only one mana – Against many decks even as far down as Legacy this could easily be a Time Walk. As far as Standard goes it will see some play but there're a lot more creatures in this format, making the ability to forbid noncreatures a bit less powerful.
Genuinely surprised at the lack of multicoloured legendary creatures but they all still seem powerful enough to earn their spot in a good number of decks. If you like hearing about the weird and wonderful things the new legendary creatures do or violently disagree – or even just enjoy our other content then do yourself a favour and like our Facebook Page to be kept up to date on all the latest articles.
Crazy out.