Crazy back again with this set's edition of Legendary Encounters, got some real love letters to the Commander community with this one but also some really good cards for other formats – Jumping in from the top, in collector's number order:
Emrakul, the Promised End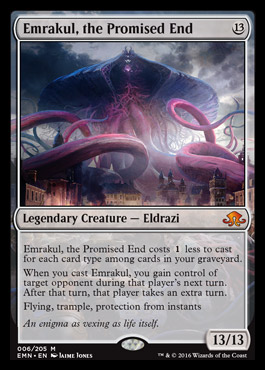 You know, a 13/13 flying trampling Mindslaver is not something I ever imagined actually getting despite my many prayers.
As a commander?
Probably not outside of casual play – Out of all of the non-artifact colorless commanders this one gives the least certain effect on cast, with the Kozileks reloading your hand and the Ulamogs removing problems on board. Granted he is the largest, but both of the Kozileks will kill via commander damage in the same number of hits so outside of Eldrazi Conscription on this guy for exact 21 it's a bit of a moot point.
In the 99?
Oh lordy yes. It's lacking something as a commander but in the 99 I feel like there's a lot to be done – I for one am looking for two, one for my Tasigur, the Golden Fang control and another for my Kozilek, the Great Distortion ramp deck. If you want to get real cheeky then run it in the same deck as a Stranglehold so that your opponent can't even take the extra turn afterwards – Who said Time Walk was a Blue effect? Decks I'd be happy to see this in include grave-based control for the cost reduction (Tasigur, Jarad, Karador), Big ramp decks as a premier target (Ruric Thar, Omnath (either)) or Red-Based control decks with Stranglehold as a finisher (Thraximundar, Nicol Bolas)
Other formats?
Uncertain – As good as it looks in standard there are a lot of sure-fire ways to kill it, Stasis Snare being chief among them, or even to nullify it entirely with Summary Dismissal. In addition, with the power level of the format being lower the value of being able to use your opponent's cards also gets lower, meaning he may not even have as much of an impact as you'd hope.
Bruna, the Fading Light & Gisela, the Broken Blade (Brisela, Voice of Nightmares)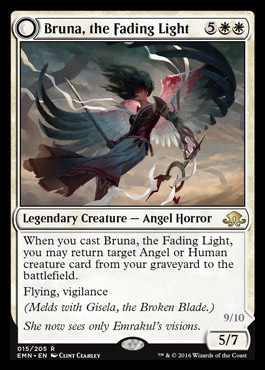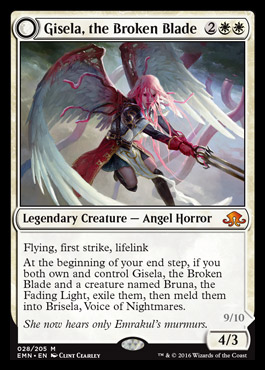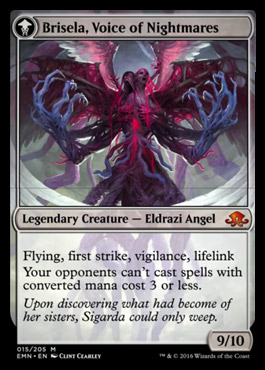 "We Yu-Gi-Oh now" – Brisela, Voice of Nightmares
As a commander?
Bruna is the one you run as the commander here as she actually has an Enter the Battlefield effect, and it's a pretty good one to boot. Karmic Guide sees a lot of play in White decks and I certainly don't have a problem with having one in the command zone to play the value game with. The real value though comes when you use it to reanimate Gisela, who will be in the 99 – As long as they both make it to the end step you get to do the fusion dance and pull out Brisela. Who, by the way, deals commander damage while also nailing your opponents with a particularly nasty Stax effect.
In the 99?
Pretty much covered that in the Bruna deck we play Gisela in the 99 so I won't harp on about that – But I will say that in their own rights they are both pretty powerful threats. Bruna especially will likely see some play in reanimator decks that need to get some extra value and create an instant boardstate (Bruna > Karmic Guide > Another thing). I'd also say that Gisela is good just as a value creature but I probably wouldn't play her in commander without Bruna.
Other Formats?
Gisela is currently sitting up around $25 purely off of Standard demand so you could probably say that people are excited to play with her. And of course people are playing Bruna by association, usually as a one-of. Not sure either of them will make any other format though.
Thalia, Heretical Cathar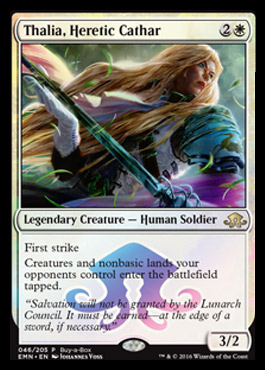 Above-curve stats and a powerful stax-ing ability. Definitely a new Thalia.
As a commander?
I can see this being at the helm of a particularly oppressive Death + Taxes style White Weenie build, likely with the other Thalia in the 99. This might even be slightly better than the previous Thalia as a commander just because of the amount of greedy manabases and utility land in commander as a whole.
In the 99?
Yes. Basically any White deck that wants a good 3-drop creature is going to be comparing it to this card. Getting a little more specific any control or Stax deck that uses White is 100% going to incorporate this card. Look out for it in Hokori, Dust Drinker, Oloro, Ageless Ascetic and Captain Sisay lists.
Other Formats?

Also yes – I am willing to bet that this card becomes a Modern and Standard all-star and might even see play in Legacy D&T. Tapping down creatures on entry is an effect we've seen before on creatures like Imposing Sovereign but I believe this is the first time we've seen "Nonbasics your opponents control enter tapped" on such an aggressively costed body – And Death and Taxes love their aggressively costed bodies.
Ishkanah, Grafwidow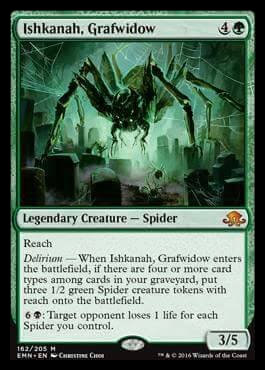 GB Spider Tribal, courtesy of Mark Rosewater.
As a commander?
Literally the entire reason this was printed. Notably fits in the same club as Tasigur in that as long as you can make infinite coloured mana you just win by repeating her activated ability forever until all of your opponents are dead. Gets flavour points for being the first and only legendary spider – and unlike certain other legendary creatures in this set she actually has synergy with her tribe.
In the 99?
Probably not the best – It's a lot of bodies for not much mana but outside of GBx tokens I'm not sure what you're doing with all those bodies. Could potentially see play in Ghave, Guru of Spores, Mazirek, Kraul Death Priest or Shattergang Brothers.
Other Formats?
Might see some fringe play in Standard but I'm not super optimistic about it's prospects in other formats. I'd like to see it in a Standard Delirium based deck but I'm not sure what the deck would look like.
Gisa and Geralf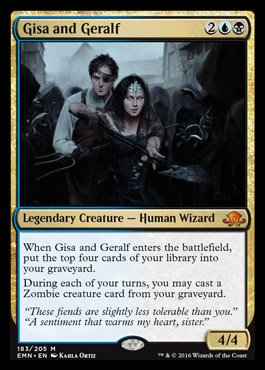 The stitcher siblings of Innistrad finally on the same card – And boy oh boy my graveyard senses are tingling.
As a commander?
Want to play UB Zombies with more of a focus on the reanimation than on the filling on the yard? (Hi Grimgrin). Then you will love these necromancers about as much as they hate each other. They got a bunch of great things from this block to add to the zombie deck too like Prized Amalgam, Cryptbreaker and Diregraf Colossus so I have a feeling you'll be seeing this one at your local store real soon.
In the 99?
If you're playing the Grixis Zombies build with Thraximundar at the helm or just the Grimgrin deck then obviously these two are a shoo-in. The real question is what other decks might they be good in? There might be some incidental tribal in your Sidisi, Brood Tyrant self-mill deck to justify them for the first ability but there aren't too many other decks I'd be playing the terrible twins.
Other Formats?
I would love more than almost nothing else to see a UB Zombie reanimator spring up around these two in standard but I feel like GWx is probably just too strong. Unfortunately they're also far too slow for both modern and legacy, as there are far more efficient cards for the 4cmc slot. Sadly I think after rotation they'll be mostly relegated to the dollar bin.
Ulrich of the Krallenhorde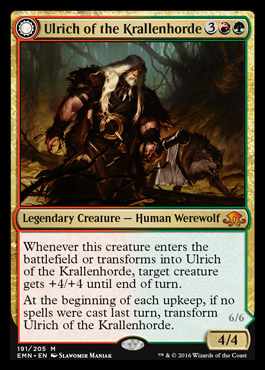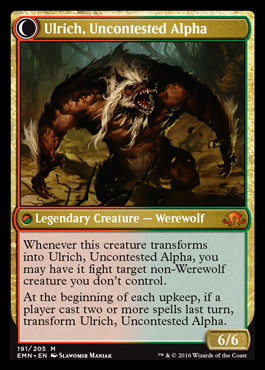 Dammit Wizards you were SO CLOSE.
As a commander?
Wizards why do you do this to me? I've been wanting to build around Werewolves since original Innistrad and instead of something I can use we get this alright midrange goodstuff guy. Commanders I would rather use for this deck include Xenagos, God of Revels for the double power and haste or Ruric Thar to punish spellslingers for trying to turn back my wolves.
In the 99?
Significantly better – +4/+4 on entry is pretty good in either of the aforementioned decks but not as good as the effect you'd be getting with either of the other two. Excellent midrange value creature with the potential to flip back and forth to keep just oozing value.
Other Formats?
I think it could see some play in Standard, probably in a Naya or straight GR Midrange – And of course there'll always be people trying to make the Werewolf deck. Definitely won't see Modern or Legacy play though – 5 mana is a bit too much for that.
Woah – That was a lot of legendaries. My personal favourite from this lot, probably the big squid herself Emrakul – 13/13 Flying Trample was already good and then they said it comes with a free Mindslaver. Can't wait for the next edition – Legendary Encounters: Conspiracy 2.
Crazy out.